Quilici, Carlos Y Quinteto Los T
Gauchita Sueca
Genre:
Tango: Tango
Label:
Municipalidad de Rosario
Laufzeit:
48 min.
Code:
dz010097
EAN:
4024236100972
Ausführliche Trackinfos und Kommentare
unten
Dieses Album kann
auf Anfrage
im WAV-Audioformat geliefert werden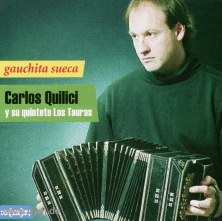 5,491 views
Carlos Quilici (bandoneón), Victor Parma (piano), Carlos Gantus (electric guitar), Guillermo Trobbiani (double bass), Simón Lagier (violin), Javier Gómez (violin) and Ricardo Paradiso (voice) participate in this recording. Carlos Quilici and his Quinteto Los Tauras ...







Detailinfos zu den Titeln
1 - La cumparsita

Carlos Quilici y Los Tauras
Duration: 04:05
Genre: Tango
Instrumental:
Composer: Gerardo Matos Rodríguez
Author:
Publisher:
Record year: 20071001
Country: AR
ISRC: DEN720802190

2 - Independiente club

Carlos Quilici y Los Tauras
Duration: 03:23
Genre: Tango
Instrumental:
Composer: Agustín Bardi
Author:
Publisher:
Record year: 20071001
Country: AR
ISRC: DEN720802191

3 - Gauchita sueca

Carlos Quilici y Los Tauras
Duration: 02:57
Genre: Milonga
Instrumental:
Composer: Carlos Quilici
Author:
Publisher:
Record year: 20071001
Country: AR
ISRC: DEN720802192

4 - Prisionero

Carlos Quilici y Los Tauras
Duration: 02:38
Genre: Tango
Instrumental:
Composer: A. Aleta
Author: F.G.Gimenez
Publisher:
Record year: 20071001
Country: AR
ISRC: DEN720802193

5 - Prontuario

Carlos Quilici y Los Tauras
Duration: 03:45
Genre: Tango
Instrumental:
Composer: Carlos Quilici
Author:
Publisher:
Record year: 20071001
Country: AR
ISRC: DEN720802194

6 - Flaco aroldi

Carlos Quilici y Los Tauras
Duration: 03:54
Genre: Tango
Instrumental:
Composer: A. Piazzolla
Author:
Publisher:
Record year: 20071001
Country: AR
ISRC: DEN720802195

7 - Japon... Japon...

Carlos Quilici y Los Tauras
Duration: 03:28
Genre: Vals
Instrumental:
Composer: F. Tell
Author:
Publisher:
Record year: 20071001
Country: AR
ISRC: DEN720802196

8 - De cafe en cafe

Carlos Quilici y Los Tauras
Duration: 02:27
Genre: Tango
Instrumental:
Composer: E. Spinassi
Author: E. Spinassi
Publisher:
Record year: 20071001
Country: AR
ISRC: DEN720802197

9 - Malenita

Carlos Quilici y Los Tauras
Duration: 04:32
Genre: Tango
Instrumental:
Composer: Carlos Quilici
Author:
Publisher:
Record year: 20071001
Country: AR
ISRC: DEN720802198

10 - La revancha

Carlos Quilici y Los Tauras
Duration: 03:03
Genre: Tango
Instrumental:
Composer: P. Laurenz
Author:
Publisher:
Record year: 20071001
Country: AR
ISRC: DEN720802199

11 - La gran Montironi

Carlos Quilici y Los Tauras
Duration: 03:55
Genre: Tango
Instrumental:
Composer: Carlos Quilici
Author:
Publisher:
Record year: 20071001
Country: AR
ISRC: DEN720802200

12 - El mismo bar

Carlos Quilici y Los Tauras
Duration: 03:02
Genre: Tango
Instrumental:
Composer: Carlos Quilici
Author: Andres Pierucci
Publisher:
Record year: 20071001
Country: AR
ISRC: DEN720802201

13 - Recuerdo

Carlos Quilici y Los Tauras
Duration: 03:47
Genre: Tango
Instrumental:
Composer: O. Pugliese
Author:
Publisher:
Record year: 20071001
Country: AR
ISRC: DEN720802202

14 - Cuesta abajo

Carlos Quilici y Los Tauras
Duration: 03:16
Genre: Tango
Instrumental:
Composer: Carlos Gardel
Author: Alfredo Le Pera
Publisher:
Record year: 20071001
Country: AR
ISRC: DEN720802203

Reviews