Amaya, David
Gitanos De Buenos Aires
Genre:
Flamenco
Label:
Warner Bros.
Duration:
36 min.
Code:
wb096224
EAN:
825646962242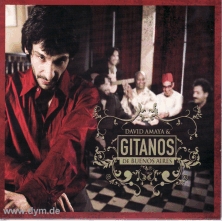 5,566 views
Flamenco with tango influences performed by David Amaya and gipsy musicians from Buenos Aires. Compositions by Amaya himself, but also well known songs by Carlos Gardel.
Detailed information on the titles
1 - reina del plata

david amaya
2 - mas de lo mismo

david amaya
3 - volver

david amaya/ diego torres
4 - gitanos porteños

david amaya
5 - melodias del zorzal

david amaya/ niña pastori
6 - carmen

david amaya/ jose mig.carmona
7 - por una cabeza

david amaya
8 - cancherito

david amaya
9 - retales

david amaya
10 - en una tarde

david amaya
11 - flamencuras

david amaya
Reviews
DyM Blog
25 September 2020
Alvarado - a Cuban legend

In front of the small, somewhat crooked wooden house, Alvarado is sitting in the shade of a palm tree with two musicians; they play the son "Tic Tac" in

...

The Tango in Europe (Part 2)

In this article about the third and fourth album of the miniseries "Con Saludos desde Europa" you get a little insight into the current events of the first decades of

...

The Tango in Europe (Part 1)

Well-known and less well-known tango orchestras from the late 20s to the late 40s are presented on a total of four albums entitled "Con Saludos desde Europa". All titles

...