Music-Shop
In our Music Shop you will find productions that we ourselves or our partner labels have released. Everything you find in this area you can buy digitally i.e. on iTunes and as a professional you can purchase the usage rights from us. This is interesting for everyone who wants to use music in their own projects. For example, you would like to add music to a film, promote your activities with music on Youtube, produce a CD for your dance students yourself - we have a rich selection of tango and salsa, but also many other Latin American rhythms.
You can pre-listen to almost all albums in our Music Shop.
If you want to buy single albums in an uncompressed format (WAV) or in a compressed format without compression losses (FLAC) for private use, please contact us via our
contact form
for further information.
Orq. Juan D'Arienzo
1940-42 instrumental
Genre:
Tango: Tango
Label:
MKR
Year:
2020
Code:
DZ024001
EAN:
4024236240012
In a time when the king of rhythm all members of his orchestra left one after the other to go their own ways and he had to put it together again with new musicians, these beautiful tangos were created. Among them are such well-known recordings as "Loca" and "Entre dos ...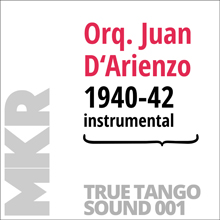 Detailed information on the titles
1 - Entre dos fuegos

Orq. Juan D'Arienzo
Duration: 02:17
Instrumental:
Composer: Alberto López Buchardo
Author:
Publisher:
Record year: 19400412
Country: DE
LC:
ISRC: DEN721900001

2 - El pillín

Orq. Juan D'Arienzo
Duration: 03:16
Instrumental:
Composer: Francisco Canaro
Author:
Publisher:
Record year: 19400607
Country: DE
LC:
ISRC: DEN721900002

3 - Fibras

Orq. Juan D'Arienzo
Duration: 02:21
Instrumental:
Composer: Eduardo Bonessi
Author:
Publisher:
Record year: 19400627
Country: DE
LC:
ISRC: DEN721900003

4 - Tucumán

Orq. Juan D'Arienzo
Duration: 02:58
Instrumental:
Composer: José Luis Padula
Author:
Publisher:
Record year: 19400627
Country: DE
LC:
ISRC: DEN721900004

5 - La bicoca

Orq. Juan D'Arienzo
Duration: 02:24
Instrumental:
Composer: José Arturo Severino
Author:
Publisher:
Record year: 19400808
Country: DE
LC:
ISRC: DEN721900005

6 - La clavada

Orq. Juan D'Arienzo
Duration: 02:29
Instrumental:
Composer: Ernesto Federico Zambonini
Author:
Publisher:
Record year: 19401009
Country: DE
LC:
ISRC: DEN721900006

7 - Canaro en París

Orq. Juan D'Arienzo
Duration: 02:35
Instrumental:
Composer: Alejandro Scarpino; Juan Caldarel
Author: José Scarpino
Publisher:
Record year: 19401121
Country: DE
LC:
ISRC: DEN721900007

8 - Quasi nada (El combate)

Orq. Juan D'Arienzo
Duration: 02:28
Instrumental:
Composer: Francisco Brancatti
Author:
Publisher:
Record year: 19401231
Country: DE
LC:
ISRC: DEN721900008

9 - Fuegos artificiales

Orq. Juan D'Arienzo
Duration: 02:41
Instrumental:
Composer: Roberto Firpo; Eduardo Arolas
Author:
Publisher:
Record year: 19410226
Country: DE
LC:
ISRC: DEN721900009

10 - Quién te iguala

Orq. Juan D'Arienzo
Duration: 02:26
Instrumental:
Composer: Alejandro Michetti
Author: Francisco Bohigas
Publisher:
Record year: 19410521
Country: DE
LC:
ISRC: DEN721900010

11 - Canaro

Orq. Juan D'Arienzo
Duration: 02:42
Instrumental:
Composer: José Martínez
Author:
Publisher:
Record year: 19410714
Country: DE
LC:
ISRC: DEN721900011

12 - Hernani

Orq. Juan D'Arienzo
Duration: 02:30
Instrumental:
Composer: Domingo Santa Cruz
Author:
Publisher:
Record year: 19410912
Country: DE
LC:
ISRC: DEN721900012

13 - Loca

Orq. Juan D'Arienzo
Duration: 02:31
Instrumental:
Composer: Manuel Jovés
Author: Antonio Virgol
Publisher:
Record year: 19420422
Country: DE
LC:
ISRC: DEN721900013

14 - El amasijo

Orq. Juan D'Arienzo
Duration: 02:33
Instrumental:
Composer: Adolfo Rafael Avilés
Author:
Publisher:
Record year: 19420422
Country: DE
LC:
ISRC: DEN721900014

15 - Tierra negra

Orq. Juan D'Arienzo
Duration: 02:50
Instrumental:
Composer: Graciano De Leone; Juan F. Noli
Author: Francisco Bastardi
Publisher:
Record year: 19420618
Country: DE
LC:
ISRC: DEN721900015

16 - Sans souci

Orq. Juan D'Arienzo
Duration: 02:31
Instrumental:
Composer: Enrique Delfino
Author:
Publisher:
Record year: 19420924
Country: DE
LC:
ISRC: DEN721900016

17 - Independencia

Orq. Juan D'Arienzo
Duration: 02:34
Instrumental:
Composer: Alfredo Bevilacqua
Author:
Publisher:
Record year: 19421222
Country: DE
LC:
ISRC: DEN721900017

Reviews