Music Database
In our music database you can find all productions from our former mailorder.
Fania All Stars
###-Bamboleo
Genre:
Salsa
Label:
3RD
Duration:
33 min.
Code:
td033311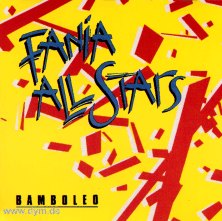 Detailed information on the titles
1 - bamboleo

fania all stars
2 - siento

fania all stars
3 - smooth operator

fania all stars
4 - quiero saber

fania all stars
5 - ijobi, djoba

fania all stars
6 - don't you worry about a thing

fania all stars
Reviews
How do you like this album? Your opinion is welcome to be published here! Write us via our
contact form
DyM Blog
07 December 2022
Tango Selection Top 22

Tango professionals from all over the world present their 22 favorite titles. This is the motto of the latest series on the label of "Danza y Movimiento". DJs,

...

Travel to Cuba now?

Travel is possible again. But many things have changed. No reason NOT to travel to Cuba. You can now get recommendations for good operators and group tours at

...

Travel - the new project on El Hierro

El Hierro is located in the middle of the Atlantic Ocean and the seventh and smallest of the main Canary Islands. Here, a project is currently being created for

...