Aleman, Oscar
De Buen Humor
Genre:
Various
Label:
Universal Music
Duration:
30 min.
Code:
um050052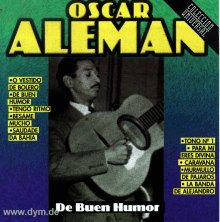 Detailed information on the titles
1 - o vestido de bolero

oscar aleman
2 - de buen humor

oscar aleman
3 - tengo ritmo

oscar aleman
4 - besame mucho

oscar aleman
5 - saudade de bahia

oscar aleman
6 - tono no. 1

oscar aleman
7 - para mi eres divina

oscar aleman
8 - caravana

oscar aleman
9 - murmullo de pajaros

oscar aleman
10 - la banda de alejandro

oscar aleman
Reviews
DyM Blog
25 September 2021
Travel - the new project on El Hierro

El Hierro is located in the middle of the Atlantic Ocean and the seventh and smallest of the main Canary Islands. Here, a project is currently being created for

...

Alvarado - a Cuban legend

In front of the small, somewhat crooked wooden house, Alvarado is sitting in the shade of a palm tree with two musicians; they play the son "Tic Tac" in

...

The Tango in Europe (Part 2)

In this article about the third and fourth album of the miniseries "Con Saludos desde Europa" you get a little insight into the current events of the first decades of

...