Bonesman
Life Goes On
Genre:
Guyana
Label:
DYM
Code:
dz011060
EAN:
4024236110605
Detailed track info and comments
below
This album can be delivered in WAV audio format
on request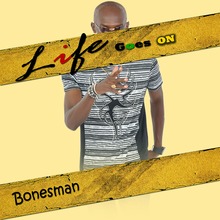 Detailed information on the titles
1 - Life Goes On

Bonesman
Duration: 04:56
Genre: Reggae
Instrumental:
Composer: Orlando Johashen
Author: Orlando Johashen
Publisher: BLUE SIMON MUSIC
Record year: 2009
Country: Guyana
ISRC: GYA031000179

Reviews
How do you like this album? Your opinion is welcome to be published here! Write us via our
contact form
DyM Blog
24 September 2023
Say hello to the Librotango companion albums!

Danza y Movimiento is happy to present this new expansion to its catalogue. Compiled by teacher, DJ, and translator Jake Spatz, each of these albums matches

...

Tango Selection Top 22

Tango professionals from all over the world present their 22 favorite titles. This is the

...

Travel to Cuba now?

Travel is possible again. But many things have changed. No reason NOT to travel to Cuba. You can now get recommendations for good operators and group tours at

...