Santos, Antony
"El Mayimbe" Sabor Latino
Genre:
Bachata
Label:
Platano
Duration:
66 min.
Code:
pl005062
EAN:
758115506220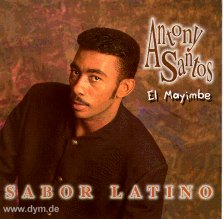 7,899 views
Wer Antonys Kinder kennenlernen möchte, sollte sich unbedingt diese CD kaufen. Wer Bachata - Fan ist, muss sich diese CD sowieso kaufen. Anthony Santos gehört einfach zu den ganz Grossen dieser Musikrichtung und jede neue CD wird ein Hit. Und wer sich die CD nicht ...
Detailed information on the titles
1 - ritmo dominicano

antony santos
2 - consejo de padre

antony santos
3 - porque tanto problemas

antony santos
4 - no me digas que no

antony santos
5 - que planton

antony santos
6 - durmiendo solo

antony santos
7 - el loco

antony santos
8 - quiero una noche contigo

antony santos
9 - esa mujer me gusta

antony santos
10 - durmiendo solo "balada"

antony santos
11 - que coja ahi

antony santos
12 - corazon culpable

antony santos
Reviews
How do you like this album? Your opinion is welcome to be published here! Write us via our
contact form
DyM Blog
09 February 2023
Tango Selection Top 22

Tango professionals from all over the world present their 22 favorite titles. This is the motto of the latest series on the label of "Danza y Movimiento". DJs,

...

Travel to Cuba now?

Travel is possible again. But many things have changed. No reason NOT to travel to Cuba. You can now get recommendations for good operators and group tours at

...

Travel - the new project on El Hierro

El Hierro is located in the middle of the Atlantic Ocean and the seventh and smallest of the main Canary Islands. Here, a project is currently being created for

...