Ze, Tom
Jogos De Armar (2CD)
Genre:
Brasil: Rock
Label:
Trama Music
Duration:
90 min.
Code:
trm000111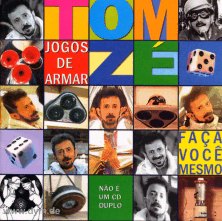 Detailed information on the titles
1 - passagem de som

tom ze
2 - peixe viva

tom ze
3 - jimi renda se

tom ze
4 - chamega

tom ze
5 - desafio

tom ze
6 - pisa na fulo

tom ze
7 - asa branca

tom ze
8 - conto de fraldas

tom ze
9 - medo de mulher

tom ze
10 - o pib da pib

tom ze
11 - cafuas, guetos e santuarios

tom ze
12 - a chegada de raus seixas

tom ze
13 - perisseia

tom ze
14 - sonhar

tom ze
Reviews
DyM Blog
17 April 2021
Alvarado - a Cuban legend

In front of the small, somewhat crooked wooden house, Alvarado is sitting in the shade of a palm tree with two musicians; they play the son "Tic Tac" in

...

The Tango in Europe (Part 2)

In this article about the third and fourth album of the miniseries "Con Saludos desde Europa" you get a little insight into the current events of the first decades of

...

The Tango in Europe (Part 1)

Well-known and less well-known tango orchestras from the late 20s to the late 40s are presented on a total of four albums entitled "Con Saludos desde Europa". All titles

...