Varios
Chacha Hits Envidia Vol. 3
Genre:
Cha Cha Cha
Label:
Envidia
Duration:
72 min.
Code:
env007717
EAN:
8429087777179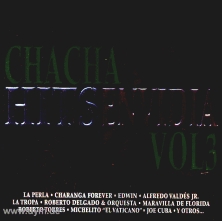 Detailed information on the titles
1 - ahora si

edwin
2 - convergencia

charanga forever
3 - yo quiero saber

la tropa
4 - el tiburon

roberto torres
5 - mata siguaraya

la perla
6 - buscando guayaba

roberto delgado & orquesta
7 - pan con queso y salami

joe cuba
8 - homenaje

michelito & carlos
9 - el mundo esta loco

la tropa
10 - bombolaye

alfredo valdes jr.
11 - soy montuno

jesus alejandro
12 - se rompieron los termometros

manolito & su trabuco
13 - cha cha cha medley

orquesta cafe
14 - por culpa de un cha cha cha

maravilla de florida
Reviews
DyM Blog
01 March 2021
Alvarado - a Cuban legend

In front of the small, somewhat crooked wooden house, Alvarado is sitting in the shade of a palm tree with two musicians; they play the son "Tic Tac" in

...

The Tango in Europe (Part 2)

In this article about the third and fourth album of the miniseries "Con Saludos desde Europa" you get a little insight into the current events of the first decades of

...

The Tango in Europe (Part 1)

Well-known and less well-known tango orchestras from the late 20s to the late 40s are presented on a total of four albums entitled "Con Saludos desde Europa". All titles

...