eStar Alegre
Genre:
Flamenco
Label:
Galileo Music Communication
Year:
2004
Duration:
0 min.
Code:
ga080009
EAN:
11
Artist:
Sordera, Vicente Soto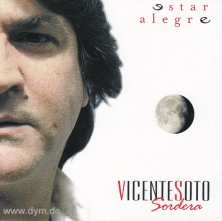 4,569 views
Few people can deliver the throaty, powerful flamenco chant as Vicente Soto "Sordera" does! When he sings, he puts all his heart and soul into the music - and at the same time he harmonizes wittily with the guitar!
Detailed information on the titles
1 - Sale la Luna (Bulerias)

Sordera, Vicente Soto
Duration: 253 sec.
Instrumental:
Composer: Vicente Soto Sordera
Author: Vicente Soto Sordera
Publisher:
Record year: 2004
Country: ES
LC: 12661
ISRC: ES7180400901

2 - A mi bola (Tangos)

Sordera, Vicente Soto
Duration: 207 sec.
Instrumental:
Composer: Vicente Soto Sordera
Author: Vicente Soto Sordera
Publisher:
Record year: 2004
Country: ES
LC: 12661
ISRC: ES7180400902

3 - La Plazuela (Bulerias)

Sordera, Vicente Soto
Duration: 277 sec.
Instrumental:
Composer: Vicente Soto Sordera
Author: Vicente Soto Sordera
Publisher:
Record year: 2004
Country: ES
LC: 12661
ISRC: ES7180400903

4 - No te lo vendo (Tangos)

Sordera, Vicente Soto
Duration: 198 sec.
Instrumental:
Composer: Vicente Soto Sordera
Author: Vicente Soto Sordera
Publisher:
Record year: 2004
Country: ES
LC: 12661
ISRC: ES7180400904

5 - Pa vestir santos (Alegrias)

Sordera, Vicente Soto
Duration: 213 sec.
Instrumental:
Composer: Vicente Soto Sordera
Author: Vicente Soto Sordera
Publisher:
Record year: 2004
Country: ES
LC: 12661
ISRC: ES7180400905

6 - A Extremadura (Tangos)

Sordera, Vicente Soto
Duration: 243 sec.
Instrumental:
Composer: Vicente Soto Sordera
Author: Vicente Soto Sordera
Publisher:
Record year: 2004
Country: ES
LC: 12661
ISRC: ES7180400906

7 - Que bonita eres (Tangos)

Sordera, Vicente Soto
Duration: 213 sec.
Instrumental:
Composer: Vicente Soto Sordera
Author: Vicente Soto Sordera
Publisher:
Record year: 2004
Country: ES
LC: 12661
ISRC: ES7180400907

8 - Salistre (Bulerias)

Sordera, Vicente Soto
Duration: 244 sec.
Instrumental:
Composer: Vicente Soto Sordera
Author: Vicente Soto Sordera
Publisher:
Record year: 2004
Country: ES
LC: 12661
ISRC: ES7180400908

9 - Pani (Tangos)

Sordera, Vicente Soto
Duration: 244 sec.
Instrumental:
Composer: Vicente Soto Sordera
Author: Vicente Soto Sordera
Publisher:
Record year: 2004
Country: ES
LC: 12661
ISRC: ES7180400909

10 - La sangre mia (Bulerias)

Sordera, Vicente Soto
Duration: 180 sec.
Instrumental:
Composer: Vicente Soto Sordera
Author: Vicente Soto Sordera
Publisher:
Record year: 2004
Country: ES
LC: 12661
ISRC: ES7180400910

Reviews