Varios
Heart Of Percussion 2
Genre:
Percussion
Label:
Weltwunder
Duration:
53 min.
Code:
ww000120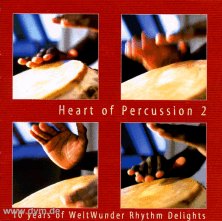 Detailed information on the titles
1 - wo ba wo ba shue

nyanyo addo
2 - the drums are speaking

aja addy & tsui anaa
3 - oblogo lamptey (remix)

mustapha tette addy
4 - sampablack

dudu tucci
5 - yok yere

abacaxi
6 - the earth holds us

global drummer
7 - kaa ya mo

nyanyo addo
8 - konja

ibro konate & anta
9 - pili pili

mustapha tettey addy
10 - morning sun (tunez remix)

nyanyo addo
11 - when do we come together

global drummer
12 - danda

dudu tucci
Reviews
DyM Blog
09 March 2021
Alvarado - a Cuban legend

In front of the small, somewhat crooked wooden house, Alvarado is sitting in the shade of a palm tree with two musicians; they play the son "Tic Tac" in

...

The Tango in Europe (Part 2)

In this article about the third and fourth album of the miniseries "Con Saludos desde Europa" you get a little insight into the current events of the first decades of

...

The Tango in Europe (Part 1)

Well-known and less well-known tango orchestras from the late 20s to the late 40s are presented on a total of four albums entitled "Con Saludos desde Europa". All titles

...