Plena Libre
Estamos Gozando
Genre:
Puerto Rico
Label:
Silva Screen Records
Duration:
46 min.
Code:
tsq009039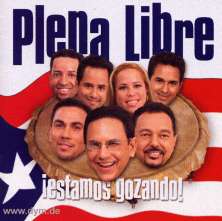 4,247 views
Three-time Grammy nominated Plena Libre is a thirteen-member band that fused traditional Afro Puerto Rican music with a variety of Caribbean rhythms an sizzling contemporary dance floor arrangements. Guest artists are Alfredo de la Fe, William Cepeda, Charlie Sepulveda ...
Detailed information on the titles
1 - olvidalo

plena libre
2 - canario blanco

plena libre
3 - que buena son las mujeres

plena libre
4 - tributo a rafael cortijo y su co

plena libre
5 - lluvia con nieve

plena libre
6 - juan jose

plena libre
7 - charlatan

plena libre
8 - kijis konar

plena libre
9 - lo que a ti te gusta

plena libre
10 - medley de la calle san sebastian

plena libre
Reviews
DyM Blog
28 February 2021
Alvarado - a Cuban legend

In front of the small, somewhat crooked wooden house, Alvarado is sitting in the shade of a palm tree with two musicians; they play the son "Tic Tac" in

...

The Tango in Europe (Part 2)

In this article about the third and fourth album of the miniseries "Con Saludos desde Europa" you get a little insight into the current events of the first decades of

...

The Tango in Europe (Part 1)

Well-known and less well-known tango orchestras from the late 20s to the late 40s are presented on a total of four albums entitled "Con Saludos desde Europa". All titles

...