Varios
Reggae Playground
Genre:
Reggae
Label:
Putumayo World Rec.
Duration:
51 min.
Code:
pu000246
EAN:
790248024622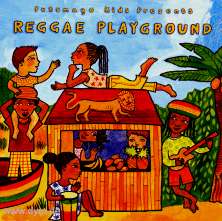 Detailed information on the titles
1 - rootsman dread

johnny dread
2 - turning world

eric bibb
3 - le vieil elephant

alain schneider
4 - let's dance

judy mowatt
5 - mon petit bonhomme

mousta largo
6 - pat gulipat

tony q rastafara
7 - heres comes the sun

the burning souls
8 - mouse in the house

marty dread
9 - ying ying

jessica
10 - as meninas dos meus olhos

kal dos santos
11 - reggae lullaby

asheba
12 - harambe

rita marley
13 - take me home country roads

toots and the maytals
Reviews
DyM Blog
01 March 2021
Alvarado - a Cuban legend

In front of the small, somewhat crooked wooden house, Alvarado is sitting in the shade of a palm tree with two musicians; they play the son "Tic Tac" in

...

The Tango in Europe (Part 2)

In this article about the third and fourth album of the miniseries "Con Saludos desde Europa" you get a little insight into the current events of the first decades of

...

The Tango in Europe (Part 1)

Well-known and less well-known tango orchestras from the late 20s to the late 40s are presented on a total of four albums entitled "Con Saludos desde Europa". All titles

...