Varios
Latin Reggae
Genre:
Reggae
Label:
Putumayo World Rec.
Duration:
50 min.
Code:
pu000273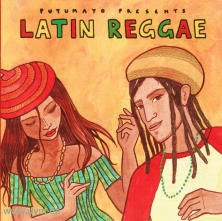 4,869 views
"Putumayo hat gerade zwei Dependancen in der Karibik eröffnet, um den dortigen Musikmarkt zu erschließen und seine erfolgreichen Karibik-Zusammenstellungen auszubauen. Latin Reggae als erster Vorbote spürt allerdings eher dem Reggae außerhalb der Karibik nach - mit ...
Detailed information on the titles
1 - conversaciones incompatibles

muchachito bombo infierno
2 - mulata descolora

macaco
3 - charito va

radio malanga
4 - la receta

los cafres
5 - reggae rustico

cultura profetica
6 - puro sangre

go lem system
7 - si hecho palante

ticklah feat mayra vega
8 - pateras

black gandhi
9 - ven

amparanoia
10 - libros sagrados

gondwana
11 - desbaratado

sarazino
Reviews
DyM Blog
01 March 2021
Alvarado - a Cuban legend

In front of the small, somewhat crooked wooden house, Alvarado is sitting in the shade of a palm tree with two musicians; they play the son "Tic Tac" in

...

The Tango in Europe (Part 2)

In this article about the third and fourth album of the miniseries "Con Saludos desde Europa" you get a little insight into the current events of the first decades of

...

The Tango in Europe (Part 1)

Well-known and less well-known tango orchestras from the late 20s to the late 40s are presented on a total of four albums entitled "Con Saludos desde Europa". All titles

...