Varios
Reggaebachata 2003
Genre:
Reggae
Label:
Sony
Duration:
37 min.
Code:
sn070444
EAN:
037627044421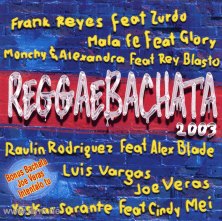 Detailed information on the titles
1 - dale pa' bajo

mala fe/ glory
2 - si te llego a perder

yoskar sarante/ cindy mei
3 - dos locos

monchy y alexandra/ rey blasto
4 - tu eres ajena

frank reyes
5 - cuando te acuerde de mi

raulin rodriguez/ alex blade
6 - volvio el dolor

luis vargas
7 - nada de nada

frank reyes/ zurdo
8 - guitarra

yoskar sarante
9 - intentalo tu (bachata)

joe veras
10 - mix reggaebachata

rodriguez/ sarante/ reyes
11 - te quiero igual que ayer

monchy y alexandra
Reviews
DyM Blog
01 March 2021
Alvarado - a Cuban legend

In front of the small, somewhat crooked wooden house, Alvarado is sitting in the shade of a palm tree with two musicians; they play the son "Tic Tac" in

...

The Tango in Europe (Part 2)

In this article about the third and fourth album of the miniseries "Con Saludos desde Europa" you get a little insight into the current events of the first decades of

...

The Tango in Europe (Part 1)

Well-known and less well-known tango orchestras from the late 20s to the late 40s are presented on a total of four albums entitled "Con Saludos desde Europa". All titles

...