Music-Shop
In our Music Shop you will find productions that we ourselves or our partner labels have released. Everything you find in this area you can buy digitally i.e. on iTunes and as a professional you can purchase the usage rights from us. This is interesting for everyone who wants to use music in their own projects. For example, you would like to add music to a film, promote your activities with music on Youtube, produce a CD for your dance students yourself - we have a rich selection of tango and salsa, but also many other Latin American rhythms.
You can pre-listen to almost all albums in our Music Shop.
If you want to buy single albums in an uncompressed format (WAV) or in a compressed format without compression losses (FLAC) for private use, please contact us via our
contact form
for further information.
Feliz, Jandy
Amor De Locos
Genre:
Tropical
Label:
RMM
Duration:
43 min.
Code:
rm064505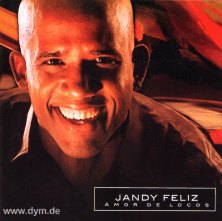 7,796 views
Jandy Feliz was the singer of Chichi Peralta's Band (Ex percussionist of Juan Luis Guerra). Feliz is also the composer of most of the songs on this CD. He combines intelligent, romantic lyrics with jaunty rhythms. This is the music you want to listen to when thinking of ...
Detailed information on the titles
1 - lola

jandy feliz
2 - los amores

jandy feliz
3 - amor de locos

jandy feliz
4 - pretendes

jandy feliz
5 - cosa bella

jandy feliz
6 - la luz de mi alma

jandy feliz
7 - el amor se menea

jandy feliz
8 - si tu me dejas volver

jandy feliz
9 - que mas da

jandy feliz
10 - por ti

jandy feliz
Reviews
How do you like this album? Your opinion is welcome to be published here! Write us via our
contact form
DyM Blog
22 September 2023
Say hello to the Librotango companion albums!

Danza y Movimiento is happy to present this new expansion to its catalogue. Compiled by teacher, DJ, and translator Jake Spatz, each of these albums matches

...

Tango Selection Top 22

Tango professionals from all over the world present their 22 favorite titles. This is the

...

Travel to Cuba now?

Travel is possible again. But many things have changed. No reason NOT to travel to Cuba. You can now get recommendations for good operators and group tours at

...