Music-Shop
In our Music Shop you will find productions that we ourselves or our partner labels have released. Everything you find in this area you can buy digitally i.e. on iTunes and as a professional you can purchase the usage rights from us. This is interesting for everyone who wants to use music in their own projects. For example, you would like to add music to a film, promote your activities with music on Youtube, produce a CD for your dance students yourself - we have a rich selection of tango and salsa, but also many other Latin American rhythms.
You can pre-listen to almost all albums in our Music Shop.
If you want to buy single albums in an uncompressed format (WAV) or in a compressed format without compression losses (FLAC) for private use, please contact us via our
contact form
for further information.
100 Years of Calypso Walter Ferguson
Genre:
Calypso Limonense
Label:
DyM-Online
Year:
2019
Code:
DZ010126
EAN:
4024236101269
Artist:
Various Artists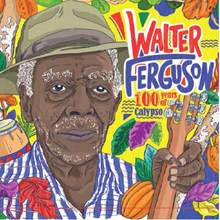 224 views
Digital release of this album on iTunes and other platforms in early 2020!
Cahuita, Costa Rica, a small village on the Atlantic coast. Since 100 years the author, composer and musician Walter "Gavitt" Ferguson lives here. The village is the center of his life. Here he created music, here he performed. Musically one hears in many works gently the waves splashing on the beach. At the same time his songs describe with simple words how life in the world is so real. Obviously one only needs to keep eyes and ears open in his little village for such insights. He is called the "King of Calypso". Renowned artists from 16 nations dedicate this album to Walter "Gavitt" Ferguson on his 100th birthday. A musical treasure trove...
Detailed information on the titles
1 - Cahuita is a Beautiful Place

Editus feat. Manuel Monestel
Duration: 03:37
Instrumental:
Composer: Walter Ferguson
Author: Walter Ferguson
Publisher: n/a
Record year: 2019
Country: CR
LC: 18272
ISRC: DEN722000001

2 - Caroline

Kawe Calypso
Duration: 05:24
Instrumental:
Composer: Walter Ferguson
Author: Walter Ferguson
Publisher:
Record year: 2019
Country: CR
LC: 18272
ISRC: DEN722000002

3 - Everybody Running to the Carnaval

Inti Illimani
Duration: 04:23
Instrumental:
Composer: Walter Ferguson
Author: Walter Ferguson
Publisher: n/a
Record year: 2019
Country: CR
LC: 18272
ISRC: DEN722000003

4 - Black Man Food

Deborah Dixon
Duration: 02:50
Instrumental:
Composer: Walter Ferguson
Author: Walter Ferguson
Publisher: n/a
Record year: 2019
Country: CR
LC: 18272
ISRC: DEN722000004

5 - Tacuma and Anansy´s Party

Patricia Saravia
Duration: 04:54
Instrumental:
Composer: Walter Ferguson
Author: Walter Ferguson
Publisher: n/a
Record year: 2019
Country: CR
LC: 18272
ISRC: DEN722000005

6 - Going to Bocas

Beachers
Duration: 04:27
Instrumental:
Composer: Walter Ferguson
Author: Walter Ferguson
Publisher:
Record year: 2019
Country: CR
LC: 18272
ISRC: DEN722000006

7 - Rumba de Cahuita

Perotá Chingó
Duration: 02:49
Instrumental:
Composer: Walter Ferguson
Author: Walter Ferguson
Publisher:
Record year: 2019
Country: CR
LC: 18272
ISRC: DEN722000007

8 - Inflation

Boulpik
Duration: 04:31
Instrumental:
Composer: Walter Ferguson
Author: Walter Ferguson
Publisher:
Record year: 2019
Country: CR
LC: 18272
ISRC: DEN722000008

9 - Long Tongue Man

Leandro Maia
Duration: 05:01
Instrumental:
Composer: Walter Ferguson
Author: Walter Ferguson
Publisher: n/a
Record year: 2019
Country: CR
LC: 18272
ISRC: DEN722000009

10 - Good Day

Aindrias de Staic feat. Master Key
Duration: 03:53
Instrumental:
Composer: Walter Ferguson
Author: Walter Ferguson
Publisher: n/a
Record year: 2019
Country: CR
LC: 18272
ISRC: DEN722000010

11 - Take Out Your Say Say Spree

Manuel Montero
Duration: 02:39
Instrumental:
Composer: Walter Ferguson
Author: Walter Fergusonw
Publisher: n/a
Record year: 2019
Country: CR
LC: 18272
ISRC: DEN722000011

12 - Cabin in the Wata

DNA Urbano
Duration: 04:08
Instrumental:
Composer: Walter Ferguson
Author: Walter Ferguson
Publisher: n/a
Record year: 2019
Country: CR
LC: 18272
ISRC: DEN722000012

13 - Calalloo

Jorge Drexler
Duration: 03:24
Instrumental:
Composer: Walter Ferguson
Author: Walter Ferguson
Publisher:
Record year: 2019
Country: CR
LC: 18272
ISRC: DEN722000013

14 - No Bother to Cry

Romulo Castro y Tuira feat. Jermaine Vazquez
Duration: 03:06
Instrumental:
Composer: Walter Ferguson
Author: Walter Ferguson
Publisher: n/a
Record year: 2019
Country: CR
LC: 18272
ISRC: DEN722000014

15 - G.O.O.D

Cantoamerica featuring Master Key
Duration: 04:04
Instrumental:
Composer: Walter Ferguson
Author: Walter Ferguson
Publisher: n/a
Record year: 2019
Country: CR
LC: 18272
ISRC: DEN722000015

16 - John Crow Say

Guadalupe Urbina
Duration: 05:25
Instrumental:
Composer: Walter Ferguson
Author: Walter Ferguson
Publisher: n/a
Record year: 2019
Country: CR
LC: 18272
ISRC: DEN722000016

17 - On carnaval Day

Lenchito Sax
Duration: 02:13
Instrumental:
Composer: Walter Ferguson
Author: Walter Ferguson
Publisher: n/a
Record year: 2019
Country: CR
LC: 18272
ISRC: DEN722000017

18 - Glamour Gal

Devon Seale
Duration: 04:03
Instrumental:
Composer: Walter Ferguson
Author: Walter Ferguson
Publisher: n/a
Record year: 2019
Country: CR
LC: 18272
ISRC: DEN722000018

19 - Land Lady

Marcel Padey
Duration: 04:03
Instrumental:
Composer: Walter Ferguson
Author: Walter Ferguson
Publisher: n/a
Record year: 2019
Country: CR
LC: 18272
ISRC: DEN722000019

20 - Dr. Bombodee

Infibeat
Duration: 03:40
Instrumental:
Composer: Walter Ferguson
Author: Walter Ferguson
Publisher: n/a
Record year: 2019
Country: CR
LC: 18272
ISRC: DEN722000020

21 - Going to Bocas

Manuel Obregon
Duration: 08:51
Instrumental:
Composer: Walter Ferguson
Author: Walter Ferguson
Publisher: n/a
Record year: 2019
Country: CR
LC: 18272
ISRC: DEN722000021

22 - Serenade

Claudia Valentina feat. Flor de Toloache
Duration: 03:51
Instrumental:
Composer: Walter Ferguson
Author: Walter Ferguson
Publisher: n/a
Record year: 2019
Country: CR
LC: 18272
ISRC: DEN722000022

23 - Man Work for Money

Oscar Molina
Duration: 02:41
Instrumental:
Composer: Walter Ferguson
Author: Walter Ferguson
Publisher: n/a
Record year: 2019
Country: CR
LC: 18272
ISRC: DEN722000023

Reviews