Music-Shop
In our Music Shop you will find productions that we ourselves or our partner labels have released. Everything you find in this area you can buy digitally i.e. on iTunes and as a professional you can purchase the usage rights from us. This is interesting for everyone who wants to use music in their own projects. For example, you would like to add music to a film, promote your activities with music on Youtube, produce a CD for your dance students yourself - we have a rich selection of tango and salsa, but also many other Latin American rhythms.
You can pre-listen to almost all albums in our Music Shop.
If you want to buy single albums in an uncompressed format (WAV) or in a compressed format without compression losses (FLAC) for private use, please contact us via our
contact form
for further information.
StazoMayor
A Mi Esposa
Genre:
Tango: Tango
Label:
Fearless Records
Year:
2007
Duration:
43 min.
Code:
dz010108
EAN:
4260046069218
The former musician and founder of the famous orchestra Sexteto Mayor presents 16 titles in the instrumentation bandoneón (Luis Stazo and Christian Gerber) and guitar (César Nigro).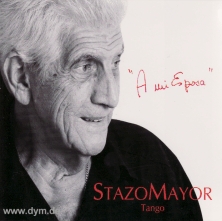 Detailed information on the titles
1 - A mi Esposa

StazoMayor
Duration: 167 sec.
Instrumental:
Composer: Luis Stazo
Author:
Publisher: Ediciones La Palmera
Record year: n/a
Country: DE
LC: 18272
ISRC: DEN721002338

2 - Lagrimas y sonrisas

StazoMayor
Duration: 155 sec.
Instrumental:
Composer: Pasquale de Gullo
Author:
Publisher: n/a
Record year: n/a
Country: DE
LC: 18272
ISRC: DEN721002339

3 - Libertango

StazoMayor
Duration: 174 sec.
Instrumental:
Composer: Astor Piazzolla
Author:
Publisher: n/a
Record year: n/a
Country: DE
LC: 18272
ISRC: DEN721002340

4 - Rosita

StazoMayor
Duration: 143 sec.
Instrumental:
Composer: Luis Stazo
Author:
Publisher: Ediciones La Palmera
Record year: n/a
Country: DE
LC: 18272
ISRC: DEN721002341

5 - Adios Nonino

StazoMayor
Duration: 218 sec.
Instrumental:
Composer: Astor Piazzolla
Author:
Publisher: n/a
Record year: n/a
Country: DE
LC: 18272
ISRC: DEN721002342

6 - Palomita Blanca

StazoMayor
Duration: 154 sec.
Instrumental:
Composer: Anselmo Aieta
Author:
Publisher: n/a
Record year: n/a
Country: DE
LC: 18272
ISRC: DEN721002343

7 - Don Juan

StazoMayor
Duration: 164 sec.
Instrumental:
Composer: Ernesto Ponzio ; Luis Stazo
Author:
Publisher: Ediciones La Palmera
Record year: n/a
Country: DE
LC: 18272
ISRC: DEN721002344

8 - Milonga Sentimental

StazoMayor
Duration: 130 sec.
Instrumental:
Composer: Sebastian Piana
Author:
Publisher: n/a
Record year: n/a
Country: DE
LC: 18272
ISRC: DEN721002345

9 - Tanguera

StazoMayor
Duration: 175 sec.
Instrumental:
Composer: Mariano Mores
Author:
Publisher: n/a
Record year: n/a
Country: DE
LC: 18272
ISRC: DEN721002346

10 - Carmencita

StazoMayor
Duration: 152 sec.
Instrumental:
Composer: Luis Stazo
Author:
Publisher: Ediciones La Palmera
Record year: n/a
Country: DE
LC: 18272
ISRC: DEN721002347

11 - Seleccion de Valses

StazoMayor
Duration: 107 sec.
Instrumental:
Composer: Barbero/Rufino
Author:
Publisher: n/a
Record year: n/a
Country: DE
LC: 18272
ISRC: DEN721002348

12 - La Cumparsita

StazoMayor
Duration: 194 sec.
Instrumental:
Composer: Gerardo H.Matos Rodriguez
Author:
Publisher: n/a
Record year: n/a
Country: DE
LC: 18272
ISRC: DEN721002349

13 - Milongo del 900

StazoMayor
Duration: 101 sec.
Instrumental:
Composer: Sebastian Piana
Author:
Publisher: n/a
Record year: n/a
Country: DE
LC: 18272
ISRC: DEN721002350

14 - Lyon

StazoMayor
Duration: 178 sec.
Instrumental:
Composer: Luis Stazo
Author:
Publisher: Ediciones La Palmera
Record year: n/a
Country: DE
LC: 18272
ISRC: DEN721002351

15 - Desde el alma

StazoMayor
Duration: 162 sec.
Instrumental:
Composer: Rosita Melo
Author:
Publisher: n/a
Record year: n/a
Country: DE
LC: 18272
ISRC: DEN721002352

16 - Viejo rincon

StazoMayor
Duration: 188 sec.
Instrumental:
Composer: Raul de los Hoyos
Author:
Publisher: n/a
Record year: n/a
Country: DE
LC: 18272
ISRC: DEN721002353

Reviews