Varios
Vamos! Vol. 5: Caribean
Genre:
Various
Label:
Via Cancun
Laufzeit:
56 min.
Code:
vc009005
EAN:
4024236090051
Ausführliche Trackinfos und Kommentare
unten
Dieses Album kann
auf Anfrage
im WAV-Audioformat geliefert werden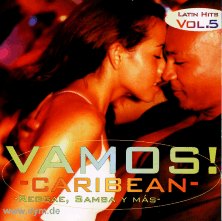 10,833 views
"Vamos" - Vol. 5 macht einen Abstecher nach Brasilien und Jamaica. Gekonnt werden Hits von legendären Sängern und Gruppen wie z.B. Carlinhos Brown, Bob Marley oder Kool and the Gang interpretiert.







Detailinfos zu den Titeln
1 - enamorada

Karibe
Duration: 04:41
Genre: Reggae
Instrumental:
Composer: C.Brown
Author: C.Brown
Publisher:
Record year:
Country:
ISRC:

2 - sunshine reggae

Island Roots
Duration: 04:18
Genre: Reggae
Instrumental:
Composer: T.Stah, J.Gulberg
Author: T.Stah, J.Gulberg
Publisher:
Record year:
Country:
ISRC:

3 - lively up yourself

Karibe
Duration: 03:01
Genre: Reggae
Instrumental:
Composer: Bob Marley
Author: Bob Marley
Publisher:
Record year:
Country:
ISRC:

4 - tuc, tic, tac

Karibe
Duration: 03:17
Genre: Reggae
Instrumental:
Composer: Braulino Lima
Author: Braulino Lima
Publisher:
Record year:
Country:
ISRC:

5 - joanna

Island Roots
Duration: 04:16
Genre: Reggae
Instrumental:
Composer: Ch.Smith, j:Taylor, Kool and the Gang
Author: Ch.Smith, j:Taylor, Kool and the Gang
Publisher:
Record year:
Country:
ISRC:

6 - reggae night

Karibe
Duration: 05:16
Genre: Reggae
Instrumental:
Composer: A.Bayyan, L.Jackson
Author: A.Bayyan, L.Jackson
Publisher:
Record year:
Country:
ISRC:

7 - i shot the sheriff

Karibe
Duration: 04:27
Genre: Reggae
Instrumental:
Composer: D.en D.
Author: D.en D.
Publisher:
Record year:
Country:
ISRC:

8 - oh, la, la, la

Island Roots
Duration: 06:31
Genre: Reggae
Instrumental:
Composer: A.Bayyan, J.Taylor, Kool and the Gang
Author: A.Bayyan, J.Taylor, Kool and the Gang
Publisher:
Record year:
Country:
ISRC:

9 - no woman no cry

Island Roots
Duration: 04:21
Genre: Reggae
Instrumental:
Composer: Bob Marley
Author: Bob Marley
Publisher:
Record year:
Country:
ISRC:

10 - red, red wine

Karibe
Duration: 03:02
Genre: Reggae
Instrumental:
Composer: Diamond
Author: Diamond
Publisher:
Record year:
Country:
ISRC:

11 - sweat a la, la, la, long

Karibe
Duration: 03:51
Genre: Reggae
Instrumental:
Composer: Lewis
Author: Lewis
Publisher:
Record year:
Country:
ISRC:

12 - get down on it

Island Roots
Duration: 04:42
Genre: Reggae
Instrumental:
Composer: R.Bell, J.Taylor, Kool and the Gang
Author: R.Bell, J.Taylor, Kool and the Gang
Publisher:
Record year:
Country:
ISRC:

13 - fruit de la passion

Auroristas Band
Duration: 03:48
Genre: Reggae
Instrumental:
Composer: F.Vincent
Author: F.Vincent
Publisher:
Record year:
Country:
ISRC:

Reviews
Review : Evolution Music

Quinto volume della fortunata serie che ha già analizzato i ritmi di salsa, merengue e cumbia e che questa volta si muove tra Brasile e Giamaica per proporci alcune hits di samba e di reggae per creare una calda atmosfera estiva anche nella più fredda notte invernale.


Evolution Music, 20060215