Musik-Shop
In unserem Musik-Shop findest Du Produktionen, für die wir Nutzungsrechte vergeben können. Das ist interessant für alle, die im Rahmen ihrer eigenen Projekte Musik verwenden möchten. Du möchtest z.B. einen Film mit Musik unterlegen, Deine Aktivitäten mit Musik auf Youtube bewerben, selber eine CD für Deine TanzschülerInnen herstellen - bei uns findest Du eine reiche Auswahl an Tango und Salsa, aber auch an vielen anderen lateinamerikanischen Rhythmen.
Du kannst bei fast allen Alben in unserem Musik-Shop die Titel vorhören. Wenn Du für Deinen Privatgebrauch einzelne Titel oder auch ganze Alben als Download kaufen möchtest, findest Du hierzu z.B. bei iTunes die Möglichkeit.
Wenn Du einzelne Alben in einem unkomprimierten Format (WAV) oder in einem komprimierten Format ohne Kompressionsverluste (FLAC) für den Privatgebrauch kaufen möchtest, setze Dich bitte über unser Kontaktformular für weitere Informationen mit uns in Verbindung.
100 Years of Calypso Walter Ferguson
Genre:
Calypso Limonense
Label:
DyM-Online
Jahr:
2019
Code:
DZ010126
EAN:
4024236101269
Künstler:
Various Artists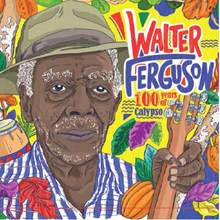 214 views
Digitale Veröffentlichung dieses Albums auf iTunes und anderen Plattformen Anfang 2020!

Cahuita, Costa Rica, ein kleines Dorf an der Atlantikküste. Seit 100 Jahren lebt hier der Autor, Komponist und Musiker Walter "Gavitt" Ferguson. Das Dorf ist der Mittelpunkt seines Lebens. Hier hat er Musik geschaffen, hier ist er aufgetreten. Musikalisch hört man in vielen Werken sanft die Wellen an den Strand plätschern. Gleichzeitig beschreiben seine Lieder mit einfachen Worten, wie das Leben in der Welt so wirklich ist. Offensichtlich braucht man für derartige Erkenntnisse nur Augen und Ohren in seinem kleinen Dorf offen zu halten. Man nennt ihn den "King of Calypso". Namhafte Künstler aus 16 Nationen widmen Walter "Gavitt" Ferguson zu seinem 100. Geburtstag dieses Album. Eine musikalische Schatzkammer ...
Detailinfos zu den Titeln
1 - Cahuita is a Beautiful Place

Editus feat. Manuel Monestel
Duration: 03:37
Instrumental:
Composer: Walter Ferguson
Author: Walter Ferguson
Publisher: n/a
Record year: 2019
Country: CR
LC: 18272
ISRC: DEN722000001

2 - Caroline

Kawe Calypso
Duration: 05:24
Instrumental:
Composer: Walter Ferguson
Author: Walter Ferguson
Publisher:
Record year: 2019
Country: CR
LC: 18272
ISRC: DEN722000002

3 - Everybody Running to the Carnaval

Inti Illimani
Duration: 04:23
Instrumental:
Composer: Walter Ferguson
Author: Walter Ferguson
Publisher: n/a
Record year: 2019
Country: CR
LC: 18272
ISRC: DEN722000003

4 - Black Man Food

Deborah Dixon
Duration: 02:50
Instrumental:
Composer: Walter Ferguson
Author: Walter Ferguson
Publisher: n/a
Record year: 2019
Country: CR
LC: 18272
ISRC: DEN722000004

5 - Tacuma and Anansy´s Party

Patricia Saravia
Duration: 04:54
Instrumental:
Composer: Walter Ferguson
Author: Walter Ferguson
Publisher: n/a
Record year: 2019
Country: CR
LC: 18272
ISRC: DEN722000005

6 - Going to Bocas

Beachers
Duration: 04:27
Instrumental:
Composer: Walter Ferguson
Author: Walter Ferguson
Publisher:
Record year: 2019
Country: CR
LC: 18272
ISRC: DEN722000006

7 - Rumba de Cahuita

Perotá Chingó
Duration: 02:49
Instrumental:
Composer: Walter Ferguson
Author: Walter Ferguson
Publisher:
Record year: 2019
Country: CR
LC: 18272
ISRC: DEN722000007

8 - Inflation

Boulpik
Duration: 04:31
Instrumental:
Composer: Walter Ferguson
Author: Walter Ferguson
Publisher:
Record year: 2019
Country: CR
LC: 18272
ISRC: DEN722000008

9 - Long Tongue Man

Leandro Maia
Duration: 05:01
Instrumental:
Composer: Walter Ferguson
Author: Walter Ferguson
Publisher: n/a
Record year: 2019
Country: CR
LC: 18272
ISRC: DEN722000009

10 - Good Day

Aindrias de Staic feat. Master Key
Duration: 03:53
Instrumental:
Composer: Walter Ferguson
Author: Walter Ferguson
Publisher: n/a
Record year: 2019
Country: CR
LC: 18272
ISRC: DEN722000010

11 - Take Out Your Say Say Spree

Manuel Montero
Duration: 02:39
Instrumental:
Composer: Walter Ferguson
Author: Walter Fergusonw
Publisher: n/a
Record year: 2019
Country: CR
LC: 18272
ISRC: DEN722000011

12 - Cabin in the Wata

DNA Urbano
Duration: 04:08
Instrumental:
Composer: Walter Ferguson
Author: Walter Ferguson
Publisher: n/a
Record year: 2019
Country: CR
LC: 18272
ISRC: DEN722000012

13 - Calalloo

Jorge Drexler
Duration: 03:24
Instrumental:
Composer: Walter Ferguson
Author: Walter Ferguson
Publisher:
Record year: 2019
Country: CR
LC: 18272
ISRC: DEN722000013

14 - No Bother to Cry

Romulo Castro y Tuira feat. Jermaine Vazquez
Duration: 03:06
Instrumental:
Composer: Walter Ferguson
Author: Walter Ferguson
Publisher: n/a
Record year: 2019
Country: CR
LC: 18272
ISRC: DEN722000014

15 - G.O.O.D

Cantoamerica featuring Master Key
Duration: 04:04
Instrumental:
Composer: Walter Ferguson
Author: Walter Ferguson
Publisher: n/a
Record year: 2019
Country: CR
LC: 18272
ISRC: DEN722000015

16 - John Crow Say

Guadalupe Urbina
Duration: 05:25
Instrumental:
Composer: Walter Ferguson
Author: Walter Ferguson
Publisher: n/a
Record year: 2019
Country: CR
LC: 18272
ISRC: DEN722000016

17 - On carnaval Day

Lenchito Sax
Duration: 02:13
Instrumental:
Composer: Walter Ferguson
Author: Walter Ferguson
Publisher: n/a
Record year: 2019
Country: CR
LC: 18272
ISRC: DEN722000017

18 - Glamour Gal

Devon Seale
Duration: 04:03
Instrumental:
Composer: Walter Ferguson
Author: Walter Ferguson
Publisher: n/a
Record year: 2019
Country: CR
LC: 18272
ISRC: DEN722000018

19 - Land Lady

Marcel Padey
Duration: 04:03
Instrumental:
Composer: Walter Ferguson
Author: Walter Ferguson
Publisher: n/a
Record year: 2019
Country: CR
LC: 18272
ISRC: DEN722000019

20 - Dr. Bombodee

Infibeat
Duration: 03:40
Instrumental:
Composer: Walter Ferguson
Author: Walter Ferguson
Publisher: n/a
Record year: 2019
Country: CR
LC: 18272
ISRC: DEN722000020

21 - Going to Bocas

Manuel Obregon
Duration: 08:51
Instrumental:
Composer: Walter Ferguson
Author: Walter Ferguson
Publisher: n/a
Record year: 2019
Country: CR
LC: 18272
ISRC: DEN722000021

22 - Serenade

Claudia Valentina feat. Flor de Toloache
Duration: 03:51
Instrumental:
Composer: Walter Ferguson
Author: Walter Ferguson
Publisher: n/a
Record year: 2019
Country: CR
LC: 18272
ISRC: DEN722000022

23 - Man Work for Money

Oscar Molina
Duration: 02:41
Instrumental:
Composer: Walter Ferguson
Author: Walter Ferguson
Publisher: n/a
Record year: 2019
Country: CR
LC: 18272
ISRC: DEN722000023

Reviews