Chicana, La
Ayer Hoy Era Manana
Genre:
Tango: Neotango
Label:
DBN
Laufzeit:
40 min.
Code:
db080259
EAN:
8427328900454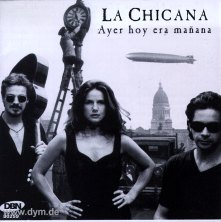 8,127 views
This CD was released already in 1998, but it has not received a lot of attention yet, which from our point-of-view is a pity. The CD "Yesterday today was tomorrow" shows 15 diverse titles: Tangos from the 1920s and 1970s, Candombe, Chamamé, compositions by Angel ...
Detailinfos zu den Titeln
1 - tinta roja

la chicana
2 - farandulera

la chicana
3 - oro y plata

la chicana
4 - la mina del ford

la chicana
5 - el esquinazo

la chicana
6 - llamame chamame

la chicana
7 - chorra

la chicana
8 - que queres con ese loro?

la chicana
9 - el porteñito

la chicana
10 - la marylin

la chicana
11 - gorda

la chicana
12 - baldosa floja

la chicana
13 - una rosa y un farol

la chicana
14 - la patota

la chicana
15 - por una cabeza

la chicana
Reviews